Reasons to Join a Hotel Management College in Raipur
---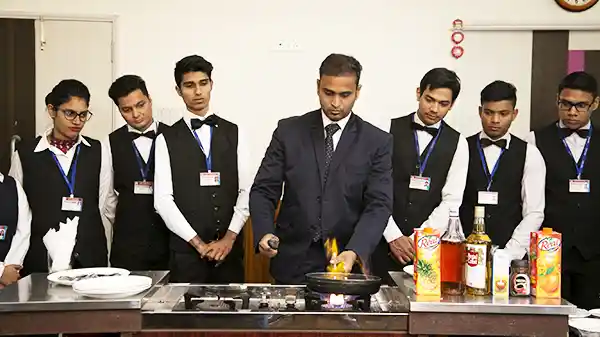 Are you unable to decide which is the best city to pursue a hotel management course? Does the cost of living in a Tier 1 city makes it challenging for you to narrow down your options? Or are you considering a Hotel Management college that can give the best of both worlds including quality education as well as ease of living? In that case, you must consider applying for a Hotel Management college in Raipur.
Raipur, situated in the central region of India and the capital of Chhattisgarh is one of the most unique cities in terms of education. The city is home to many institutes of national importance in engineering, management, medicine, and law. It is the only city in India home to IIM, NIT, AIIMS, CIPET, Hidayatullah National Law University (HNLU), NIPER(Proposed), and IIIT. Now, what's that got to do with joining a Hotel Management College in Raipur.
Let us first understand what Hotel Management is and then why you should apply to a Hotel Management College in Raipur.
What is Hotel Management?
The answer is in the name, simply put it is managing the day-to-day operations of a hotel and involves multiple job roles. Hotel management college in Raipur and hospitality offer great career opportunities and currently comprise 8% of the professional workforce in India. With India being one of the prime tourist destinations hospitality never runs out of business and there is always demand. So it would be a great decision to apply for a Hotel Management College, but why in Raipur?
Reasons for joining Hotel Management College in Raipur:
Let's just say there is not just one single reason why you should join a Hotel Management College in Raipur. As we mentioned earlier that Raipur is quite unique when it comes to the education institutes placed there. With the abundance of these institutes naturally, the city has excellent facilities and options for its students. Let's list them down.
Options for Hotel Management college in Raipur:
It's not just a place for premier institutes but a land of opportunities for aspiring Hoteliers too. Raipur has a wide range of colleges that offer Hotel Management courses. Each college has some unique offerings and has been adding a significant number of hoteliers across India. Here is a list of Hotel Management College in Raipur:
ITM University, Raipur
Kalinga University
STATE INSTITUTE OF HOTEL MANAGEMENT CATERING TECHNOLOGY & APPLIED NUTRITION -[SIHM]
RAIPUR, CHHA
AAFT University
ICFAI University
Pt. Ravishankar Shukla University
RIT College of Hotel Management - RITCOHM
Shri Rawatpura Sarkar University
Now that you have a decent list of Hotel Management college in Raipur, let's take a look at the reasons why you should choose this city!
Climate & Location
The climate in Raipur is just perfect! It's far away from the Sea and situated at an altitude, so it is neither too hot nor too cold. The weather is mostly playful with a monsoon between July - September followed by winters towards the later part of the year. The summers are mild and it is mostly pleasant. If the climate is not the only reason to join a Hotel Management college in Raipur, the city is extremely vibrant with many places to visit and detox from the long hours of studying. A few of the most well-known destinations around Raipur include Budha Talab, Nandan Van Zoo, Gandhi Udyan Park, Energy Park, and many more. The state of Chattisgarh is also blessed with many gems such as Chitrakote Water Fall, Indravati National Park, Kotasmar Caves and so much more. With so many exciting sites you will never run out of options to explore. With so many places close by a Hotel Management college in Raipur is a perfect choice.
Language
Hindi is the most widely spoken language in Raipur, it is always easy to interact with the locals and the visitors. As a Hotel Management student, it is important to explore as many cultures as possible as it will help you learn more about the people you will eventually provide hospitality to. A hotel management college in Raipur makes it easy to interact with a wide range of students who flock there for various kinds of studies. The more you immerse yourself in understanding different mindsets the easier it will become for you to relate to them. Fun fact: Learning culture is one of the most essential parts of providing quality hospitality service and Hotel Management college in Raipur is a perfect destination to do that.
Food & Drinks
Although a Tier two city, Raipur ranks 7th in the ease of living index, there are a lot of options here to choose from. Considering that students across the country come to this city to study most places are customized to serve diverse student tastes. As a Hotel Management student, it is important that you get to explore different cuisines, restaurant setups, hotels, and other areas of hospitality and a Hotel management college in Raipur will provide you with many options to explore.
Accommodation
Being a tier 2 city has its own benefits, for instance, the cost of living here is not very high, and one can easily rent out a 2bhk flat for as low as 8,000.00 rupees. Since the city has so many institutes there are a lot of hostels available throughout the city including hostels and dorms on college campuses. Compare this with a city like Mumbai or Bangalore, it would really cost you thrice the same amount to rent a 1 BHK apartment, and it makes sense why most students in Tier 1 cities find it difficult to explore life outside campus dorm rooms which makes a Hotel Management college in Raipur a perfect choice
Getting Around
Raipur is a classic Indian metropolitan and getting around in Raipur is very easy, there are local taxis and buses that can take you to any part of the city very easily, and the cost to travel in Raipur is relatively low which makes it a budget-friendly city for aspiring students. There are ample recreational areas such as malls, movie theaters, and clubs. The city has no doubt a youthful vibe of course and the local transportation makes it extremely easy to travel around. Why wouldn't you want to join a hotel management college in Raipur?
All of this put together, a Hotel Management college in Raipur should be a perfect choice.
Need help
choosing a Program?
Talk to us about which program best suits your professional career.
Get Brochure
Enquire Now
---
Enquire Now